Current Issue
Vol 10, No 1 (2023): Sixty years after the reform of middle school: a new historiographical overview
Published August 9, 2023
Issue Description
On December 31,1962, the law n. 1859 was approved. It established the unified middle school, starting from the class of 1963-64. The Law, making secondary education compulsory, free and equal for all citizens, achieved a substantial application of Article 34 of the Constitution. The most important school reform of democratic Italy took place after years of discussion and unsuccessful attempts, despite this it was destined to impact with its effects, with its achievements and its shortcomings, the development of the education system in the following decades.
In 2013, on the occasion of the 50th anniversary of its establishment, the then «Nuovo bollettino CIRSE», offered a first picture of a scenario in full development of institutional, historical-scholastic, historical-pedagogi... More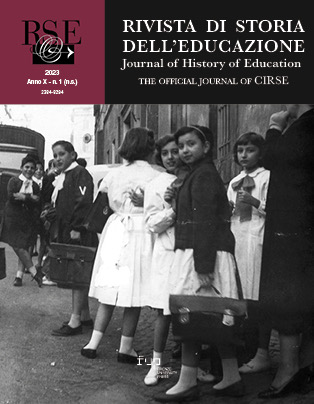 ##issue.tableOfContents##
Table of Contents
Monographic Section Articles
View All Issues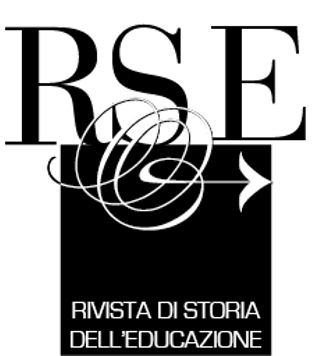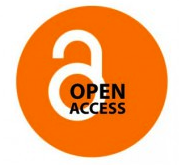 Journal of History of Education RSE  is an international, peer-reviewed and open-access journal focused on the global significance and impact of history of education. It covers all the theoretical and practical aspects of the history of education, as well as scholarship and applied research. It is the official journal of CIRSE (Italian Center for History of Education), the field's leading scientific society in Italy, and has been published since 2014 (since 1982 with another title). The journal is biannual and publishes both special and miscellaneous issues. It encourages submissions from a range of intersecting sub-fields in intellectual, social, political, economic, and cultural history including (but not limited to): sociology of knowledge, history of childhood and youth, public and urban history,  cultural and comparative history, history of ideas, history of emotions).
---
ISSN 2384-8294 (print) ISSN 2532-2818 (online)
Rivista Italiana di Storia dell'Educazione, Registration at Pisa Law Court no. 1407
Editors in Chief
Fulvio De Giorgi, University of Modena and Reggio Emilia
Caterina Sindoni, University of Messina
Dorena Caroli, University of Bologna
---
Journal of History of Education RSE is indexed in:




---
---