Monographic Section Articles
Educational life-stories and educators in the aftermath of the racial laws (1938-1944) in a district of the historic center of Rome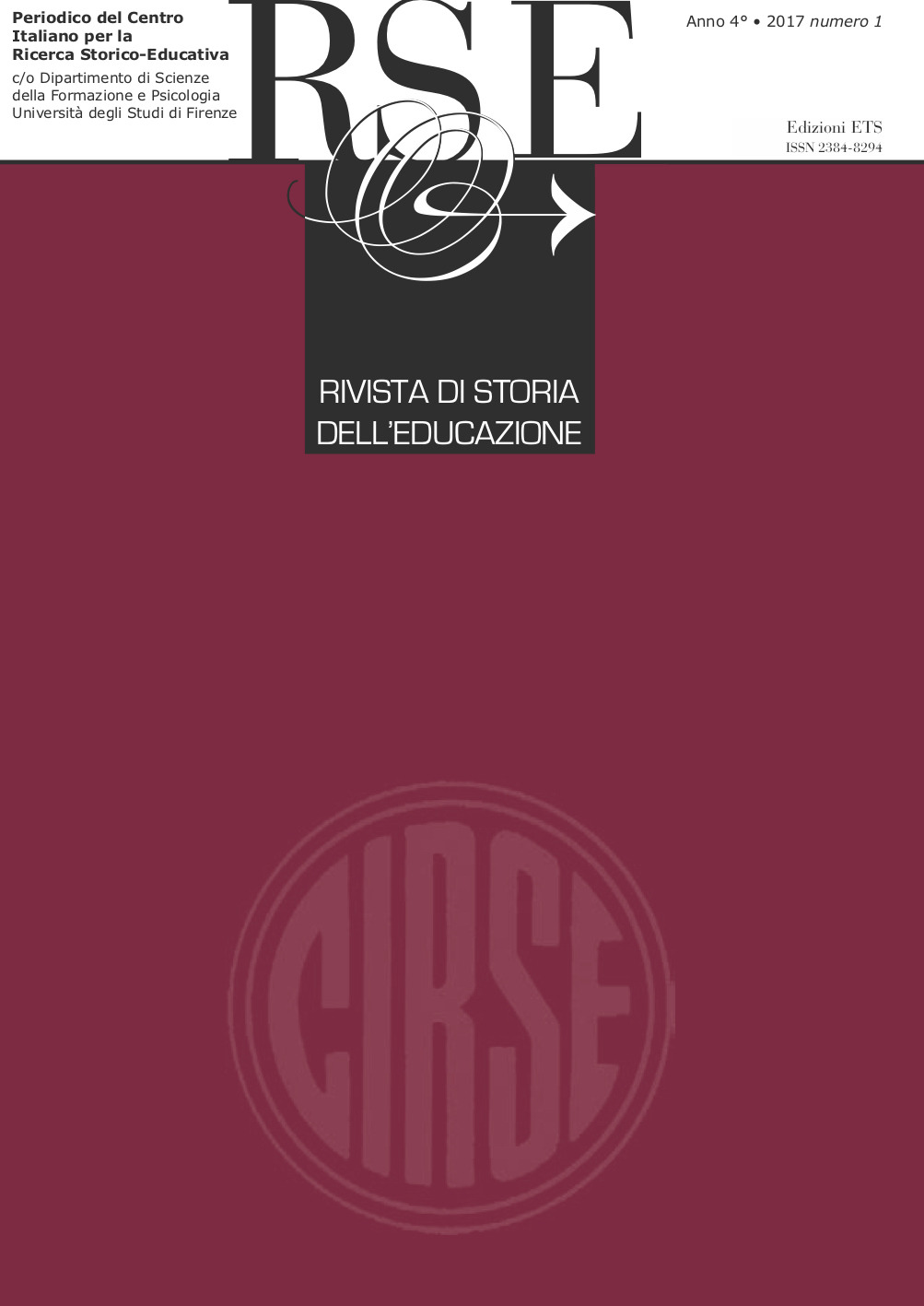 Published 2019-11-28
Keywords
Albertelli Pilo, Gesmundo Gioacchino, Don Pappagallo Pietro, school, fascism.
How to Cite
Roverselli, C. (2019). Educational life-stories and educators in the aftermath of the racial laws (1938-1944) in a district of the historic center of Rome. Rivista Di Storia dell'Educazione, 6(2). https://doi.org/10.4454/rse.v6i2.216
Abstract
The Monti district is one of the most ancient districts of the city of Rome. It owes its name to the fact that it once included four hills: the Esquiline, the Viminale, and part of the Quirinale and the Celio.
The aim of this study is to shed new light on a number of little-known educators who lived in this Roman district between 1938 and 1944. In particular we will dwell on Pilo Albertelli (professor of philosophy at the 'Umberto I' High School, near the Basilica of Santa Maria Maggiore), Gioacchino Gesmundo (who also taught philosophy, at the 'Cavour' High School, near the Colosseum) and don Pietro Pappagallo (who lived in via Urbana). These three men, two teachers and a priest, were all tortured in Via Tasso and killed at the Fosse Ardeatine.
We will show how the police controlled Pilo Albertelli since he was a student and when he obtained his teaching qualification, making his teaching career particularly complicated. We will retrace Gesmundo's relationship with his students and comrades. As for Pietro Pappagallo, we will highlight his social work, which the Nazi-Fascist repression sought to block. The life-stories of these three educators illustrate some modes of action of the regime's repressive machine in the daily life of teachers and educators who wanted to defend different ideals: this is the same repression which was exercised by the regime for the implementation of the racial laws.