Vol. 8 No. 1 (2021): Misc Section Articles
Articles
Molding the plastic soul of youth. The Ratio Studiorum and the manifacture of educated and catholic subjects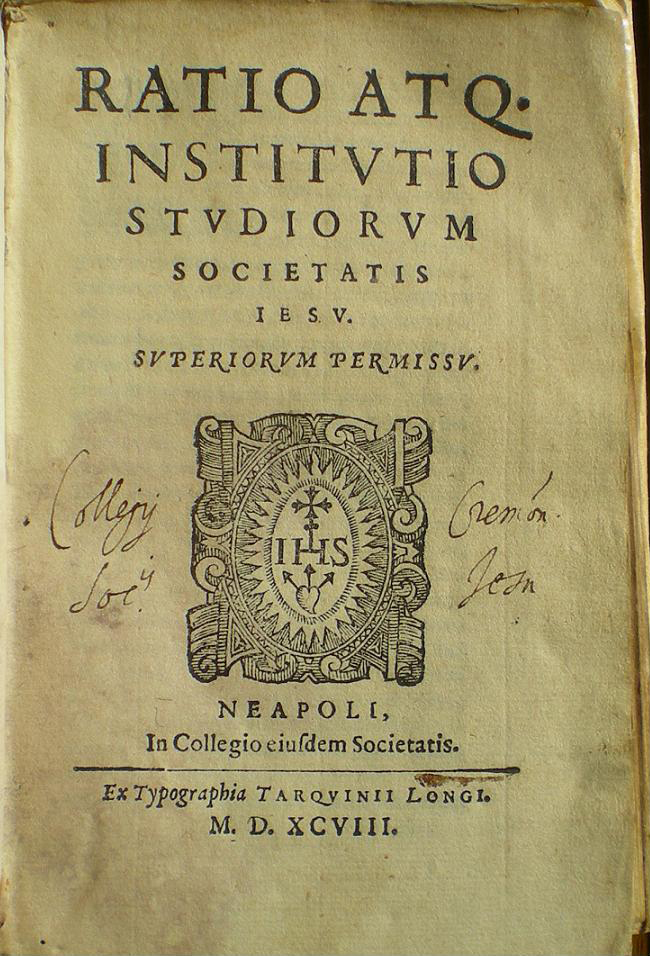 Keywords
Ratio Studiorum

,

curriculum

,

Jesuit

,

subject
How to Cite
Dallabrida, N. (2021). Molding the plastic soul of youth. The Ratio Studiorum and the manifacture of educated and catholic subjects. Rivista Di Storia dell'Educazione, 8(1), 3-10. https://doi.org/10.36253/rse-10424
Copyright (c) 2021 Norberto Dallabrida
This work is licensed under a Creative Commons Attribution 4.0 International License.
Abstract
This essay intends to re-read the Ratio Studiorum by analyzing its strategies and pedagogical tactics in the production of the subjectivity of Jesuitic students, in connection with the ascetic principles of the Society of Jesus and the social circumstances of a century characterized by religious reforms and wars.
References
Durkheim, Emile. 1995. A evolução pedagógica. Porto Alegre, Artes Médicas.

Elias, Norbert. 1993. El proceso de la civilización: investigaciones socio-genéticas y psicogenéticas, Madrid: Fondo de Cultura Económica.

Foucault, Michel. 1988. "A governamentalidade". In Microfísica do poder, edited by Michel Foucault, 277-293. Rio de Janeiro: Graal.

Foucault, Michel. 1995. A arqueologia do saber. Rio de Janeiro: Forense Universitária.

Franca, Leonel. 1952. O método pedagógico dos Jesuítas: o "Ratio Studiorum" – introdução e tradução, Rio de Janeiro: Agir.

Lacouture, Jean. 1993. Os Jesuítas – 1. A conquista. Lisboa: Estampa.

Le Goff, Jacques. 1990. "Documento-monumento". In História e memória, edited by Jacques Le Goff, 535-549. Campinas: UNICAMP.

Loyola, Inácio de. 1975. Constituições da Companhia de Jesus, translation and notes by Joaquim Mendes Abranches, S.J., Lisboa: s. n.

Loyola, San Ignacio de. 1977. Obras Completas: transcripción, introducción y notas de Ignacio Iparraguirr y Candido de Dalmares. Madrid: Biblioteca de Autores Cristianos.

Meneses, Ernesto. 1988. El código educativo de La Compañia de Jesús. México: Universidad Iberoamericana.

Petitat, André. 1994. Produção da escola/produção da sociedade: análise sócio-histórica de alguns momentos decisivos da evolução escolar no Ocidente. Porto Alegre: Artes Médicas.

Schmitz, Egidio F. 1994. Os jesuítas e a educação: a filosofia educacional da Companhia de Jesus, São Leopoldo: UNISINOS.

Varela, Julia. 1983. Modos de educación en la España de la Contrarreforma. Madrid: La Piqueta.

Varela, Julia. 1997. Nacimiento de La mujer burguesa: El cambiante desequilibrio de poder entre los sexos, Madrid: La Piqueta.

Varela, Julia and Alvarez-Uría, Fernando. 1991. Arqueologia de La escuela, Madrid: La Piqueta.